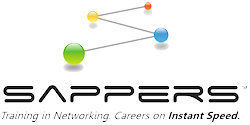 What is Networking ?


Networking refers to a telecommunications network which allows computers in a network to exchange data with the help of Switches and Routers.

There are several different certifications that allow you to make the most of the Technology and Networking industry like CCNA, CCNP & CCIE which cover following distinct domains:



Why make a career in Networking ?

Usage of IT in the business has grown exponentially in the past few years leading to global shortage of people with the right combination of knowledge and qualifications. By meeting this growing demand, you can compete in the global economy and make a name for yourself in this sought after industry.



You can do a networking course right after graduation.
Courses & Certifications are recognised worldwide.
Networking professionals are in demand in Non-IT companies, Banking, System Integrators, Remote Management Software Industry, Internet Service Providers, BPO, Manage Services (Data Centers).
Skilled professionals with right certifications have demand in the companies like Accenture, Capgemini, TCS, Infosys, Wipro, Dimension Data, Airtel, Reliance, IBM, VSNL, Hathway, ICICI Bank, HDFC Bank, HSBC and many PSU and multinational companies.
CCIE certification which is highest rank in certification in networking industry generates demand across the world.
Interested?
Request a Callback